How can you improve your customer's shopping experience? We offer our partner e-shops an opportunity to communicate with their customers by inserting an exclusive branded envelope with attractive vouchers.
The BALÍK PLUS LOYALTY product offers 2 types of loyalty programs: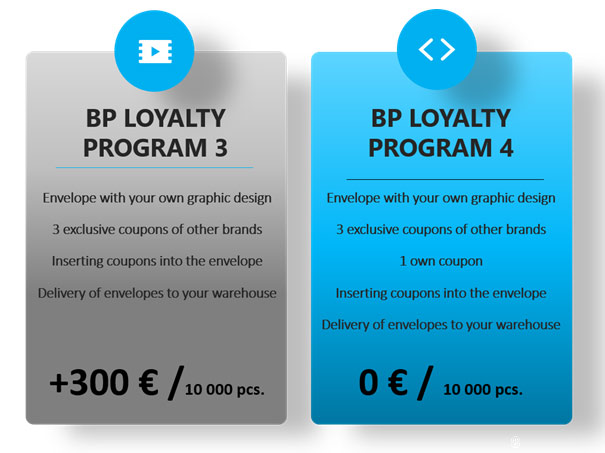 If you choose BP Loyalty Program 3, your customers will receive an exclusive personalized envelope. The envelope contains 3 attractive coupons from well-known brands. We will take care of the printing and deliver the already filled envelopes to your warehouse. Plus, we will pay you for inserting the envelope into your package. So not only your customer, but also you will benefit from it. Your customers will get added value in the form of a gift vouchers and you will be able to reduce the packaging costs.
If you are also interested in re-engaging your customer, choose BP Loyalty Program 4, which allows you to insert your own coupon. The envelope will contain, in addition to 3 coupons of well-known brands, your own coupon. With your own coupon, you can immediately re-engage a customer and motivate him to shop again. The remaining three coupons in the envelope are from non-competing brands. You will receive the entire service, which includes envelope printing, 3 coupons from other brands as well as your own coupon and delivery to a partner, free of charge.
It is completely up to you for what kind of coupon you will decide. You can present a new service to customers or offer them a discount code or a gift coupon for the next order. With this approach, you can more easily convert a new customer into a repeat buyer.
If you are also sending e-mail newsletters several times a month, but it does not bring the desired results, it may be a right time to try a new approach and connect your online store with an offline strategy.
Increase conversion rate by 5 %
The numbers speak for themselves. The survey conducted by GfK showed that up to 67 % of respondents will use the package insert with a high to very high probability in the future, if it is tailored to their needs. At the same time, up to 42 % of them read the insert or visit the advertiser's website.
Precise targeting and re-engaging customers can increase conversion rates by existing customers by up to 5 %. In addition to more sales, there is a good chance that satisfied customers will write a positive review or tell their friends about your business.
Price conditions
Reduce your packaging costs by getting a reward from us. When you insert the fourth coupon with your own offer, you will get this service for free. The service includes envelope printing, coupon printing, insertion of coupons and delivery of materials to your warehouse.
When does the campaign take place?
The campaign has a fixed distribution date: October – November 2021. That means you can present all your offers and competitive advantages to your clients before the main season. You can order this service if you send at least 2500 packages per month. The minimum volume for printing is 5,000 pieces.
Why to cooperate with BALÍK PLUS?
The BALÍK PLUS network is a network of online stores for pckage inserts and samples, reaching more than 3 million online customers. We operate in 9 countries in Eastern and Central Europe – the Czech Republic, Slovakia, Poland, Hungary, Romania, Bulgaria, Croatia, Slovenia, Ukraine. We have more than 2,500 partners and clients and we make more than 50 million inserts a year.
If you need additional information, we will be happy to find the best solution for your e-shop. Do not hesitate to contact us.
We are looking forward to our cooperation.